Camdog
Fenrir-Lunaris
---
RMSephy
---
STDHawk
---
Machu:
1
2
3
Artimus Bena: Landscape



Shadowiii's been sick and busy all last week, so he's sorry he hasn't released OHR-Weekly on time!

Thanksgiving Quest

- JSH357

Project "C"

- Reviewed by Shadowiii
Halloween Quest II - Author's Comments

Halloween Quest 2... Hmmm, what exactly do I think of when I hear that name? Well, first of all, it's my most recent game, and supposedly my best one. The actual whole of Halloween Quest 2 took eight months to make. From beginning to end. Every sidequest, every sprite, every.... heck, everything. But it's easy to just say, it took eight months to make this Halloween game, and leave it at that. But what actually went on during production? Heck, how did I get started so damn early??? March of to October? That's pretty dang early.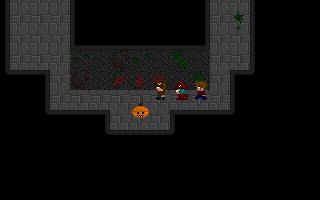 It all began wayyyyyyy back in March. During conversations with Fenrir Lunaris we both decided to work together on Halloween Quest 2. And to make it better than the original in practically everyway. I would be designing the story and he would be doing the graphics. Fenrir's sprites looked magnificent. Even after the game is finished, I still wish I could have seen my game with these sprites. Anyways, after about a solid month of trying to get a lot of work done, Fenrir was slowly giving me less and less to work with. And we both mutually agreed that it would be best, since Fenrir had a lot on his plate; For me to do it alone. And so production started again. Faster, but not as graphically well.

There were several things I wanted to introduce to the players right from the beginning. One was the whole costume thing. Josh had a very unusual costume, one normal trick-or-treaters wouldn't be wearing. And throughout the whole game, it is never said, but you sort of wonder why he has that dang costume. Max was the Cappa from SmokeyMcGoo, and Clyde was Spiderman. Costumes took a great deal of planning. Unlike some characters who were easy to design from the beginning (Josh), Max and Clyde took a tad more planning. When Fenrir and I designed the main characters we designed specificially Josh, Max, and Clyde. No other characters. Josh kept his original design. Max however was originally supposed to be a bag mage. With a brown paper bag over his head and a blue jacket and red tie. Clyde was the toughest one to design however. We tried everything. Fenrir's first doodle he sent me was of Clyde as Vash from Trigun. As neat as it looked, it really made it seem like Clyde was out of character. Because first of all, he had a gun, and not a whip. In the end, I stared aimlessly at my wall, and saw my Spider-Man poster. I told Fenrir I thought Spider-Man would be a great idea, and he drew it. It was.

After I took the project solo, I decided the bag mage was a bad idea. I don't know if it's because I couldn't draw it to look cool or what? But I dropped it and used the Cappa as Max's costume.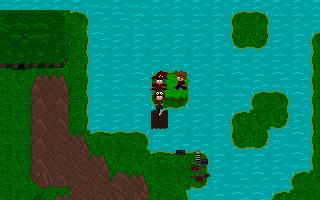 Many people are probally wondering, like when watching many movies. Does the game live up to the first and is it better? Well, there are multiple answers to these questions. Halloween Quest 2 is not near as much Halloween oriented. It's more of an RPG. Which is what I wanted all along. Halloween Quest was made in a month and tried to be funny and scary. While Halloween Quest 2 tries to be fun and upgoing. If you are playing the game to be scared, then well, you will be a tad disappointed. But the story element is based entirely around the Halloween theme. Because, it wouldn't be Halloween Quest, without having Halloween involved right?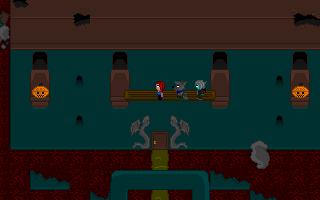 Last year, Josh, Max, and Clyde went up against the vicious David the Vampire. Josh and Max's father who was possessed by a dark evil. They knew David was up to something for the evil when they confronted him. But after this confrontation, David's body and soul were lost, and the evil was trapped for another year. Leaving our heroes with a big question mark over their heads. However, in Halloween Quest 2, the heroes get these questions answered, in a full-length RPG. They meet up with old characters, such as Josh's beautiful girlfriend, Rachel. Fenrir Lunaris, whom is the gaurdian of the bog near the mountains on a different continent. Even a couple new characters are added to the pile. But what really gets the pot stirring, is the fact that there are sort of two sides to this story.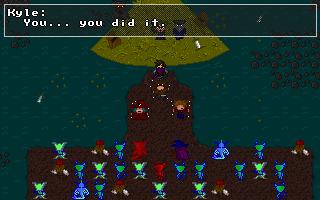 Josh, Max, and Clyde are off trying to find the evil. And when Josh tells Rachel to sit still and wait for him, she joins Fenrir Lunaris and tries to build an army to fight these creepy red things. All in all, the different perspectives to the story make it a lil more interesting than just Josh, Max, and Clyde going from "hometown" to "final dungeon".

Halloween Quest 2 came out Halloween of 2004, and based on my narration of the tale, it's over. It is made for everyone, and I had a blast making it. I hope you all enjoy it as much as I did creating this sequel.
Halloween Contest Ends, Voting Begins!

---
Pitch Black Hits 1,500 Downloads

---
#Paradoxlounge Fyre Protest Over?

---
Walthros Hits 911 (Never Forget)

---
10/5/1999 Game.exe hits 550 downloads (?!)

---
Train: La ballade de #Sew director's cut announced

---
Title Screen Contest Over, Voting Begins

---
Photo Ed Contest Over, Voting Begins

---
Shadowiii a lazyass?
Scary Game 3 - Moogle1
Cabbage Acres VG Demo 1
---
Zander
---
Halloween Contest Games
---
Thanksgiving Quest
---
Halloween Intangible
---
Halloween Quest II
---
Pussy Pet
---
Train: Le ballade de #Sew: Le Procrastination De Masse
---
Halloween No Ingles
---
Pitch Black 2
Articles
Hawk - The Making of Train: Le Ballade de #Sew
RMZ - The Making of Halloween Quest II
---
Interviews
STDHawk and Sew, interviewed by Squall. Sort of.
Artimus Bena
Aarkhaen War
:3:
:4:
Snippet
Submit Crap! You know you want too!
Older, less cool issues